In the next few months, I'll be re-doing a cool pair of brass chairs that I found off of craigslist. Brass isn't an easy thing to bring back into a home when for so long, the mere mention of the word meant you were talking about something outdated. I was timid at first to consider it for chandeliers, lamps, chairs, accessories, but now I love the way it so easily mixes with various colors, and adds a splash of glam when done right.

Looks amazing with all the black. The brass candleholders, and brass colored vase really pop.
WOW....love these tables. They look gorgeous with the jewel-toned room!
Even the slightest detail of the brass feet on the loveseat, and the framing of the table make a sleek room even sleeker.
A little out of focus, but love that the side table is trimmed in brass.
can be masculine in a bar....
Even with the most bare and neutral of spaces....it just works
Vintage brass mushroom lamp.....very cool
Not for everyone, brass colored fixtures and pipes are making a splash again
The brass bar cart.....very Mad Men and so sophistocated
I love these colors.....and that the slightest brass detail adds so much to the look!
what a gorgeous campaign dresser and brass ring mirror. LOVING the brass and grey.
perfect lamps for this credenza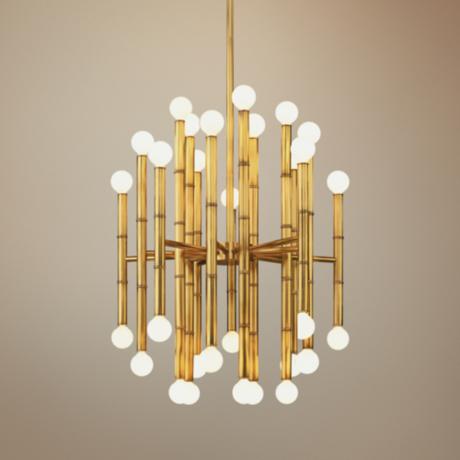 Jonathan Adler
I drool.....and LOVE this lamp.....would love two of them! Maybe Santa will think I was nice this year
brass knobs and handles and kickplates! soo glam. as if the fireplace isn't enough....the chandelier above it is dreamy.